---
---
---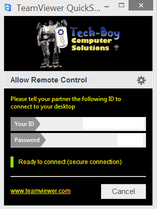 Unlimited Remote Service Now Available!
$29.00 (per month) Unlimited Remote Access*
Includes: Evaluation/Clean-up/Update/Fix/Virus Removal
Safe-Secure-Easy
Call or Click here now for details
*If an onsite visit is required due to issues with remote access, then a 15% discount will apply. Restrictions may apply.
---
---
---
---

When it comes to Sacramento's most trusted on-site computer repair services, including data recovery, data storage, remote technical support, and home and business networking solutions, we are on the cutting edge of technology.

Tech-Boy Computer Solutions is your local, on-site, and mobile computer repair consultants providing fast emergency response times when computer problems strike. We also provide home, office, laptop, and desktop computer diagnostics remotely, allowing us to provide immediate maintenance for repairs, software updates, and cleaning your computer of viruses and malware.Tech-Boy Computer Solutions is also one of Sacramento's most reliable experts in hard drive data recovery and computer hardware upgrades. We can build, service, and upgrade your PC or Mac product - from computer setup to virus removal to hardware installation. Tech Boy Computer Solutions is mobile, onsite, and on call. We come to you with personal, professional, and thorough computer service. More than that, we can remove computer viruses, speed up your computer, upgrade your computer hardware, diagnose issues, and relieve your frustrations at affordable fixed rates. We even help with Audio/Video Equipment, CCTV, iPhones, Android, Smart Phones, & Tablets.
---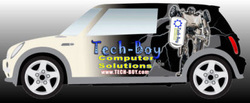 Tech Boy is 100% mobile. We cover the entire Sacramento area, on call for all your computer service needs. We come to you, on site, where your computer system needs us. With our quick-response team and affordable computer service, your Sacramento-area computer problems are solved.
Computers are such a necessary part of our daily lives. We rely on them to help us communicate, pay our bills, assist with our business or school, or to simply find information on the internet. Unfortunately, many things can go wrong with our computers, and often, malicious outside sources can cause them to function improperly or not at all. Tech-Boy can help! With our expertise and out-of-the-box thinking, we can find the solution that fits. Whether you need informal training, a repair, an upgrade, software, system protection, or a good old-fashion clean up, we are just a phone call away.
---
---

---
---
---
Give us a try...we know you will be pleasantly surprised!

Tech-Boy Computer Solutions offers affordable on-site computer services for your home and small-business needs. We provide that personal touch that seems to be missing these days with most computer-support services. We work with all types of computer brands, including Dell, HP, Compaq, Sony VAIO, Gateway, E-Machine, Acer, Fujitsu, Toshiba, Lenovo, IBM, and Apple. We work for many clients with many different needs, and we understand the urgency to have your system up and running. Tech-Boy Computer Solutions works hard to fix your PC's problem, solve your need in a timely fashion, and get it right the first time.


Local Businesses We Gratefully Serve
---